Consistency
Nadal is perhaps the greatest clay court player tennis has seen so far, or will see for a long time coming. That said, this year, following his return from an extended break, Nadal has been brilliant on every surface going. He opened his hard-court season with strong wins before his now-iconic Australian Open final against Roger Federer, and then followed it up with a semi-final against the Swiss in Indian Wells and yet another final in Miami – against Federer each time.
To say that he has only dominated clay so far would be misleading – Nadal has had a singularly high level of gameplay whether it has been on hard courts or clay, so his prowess is not to do entirely with his mastery of the clay court.
That regular play and consistency were a mark of Nadal's earliest days, and the player has sustained that gameplay deep into tournaments each time.
Coaching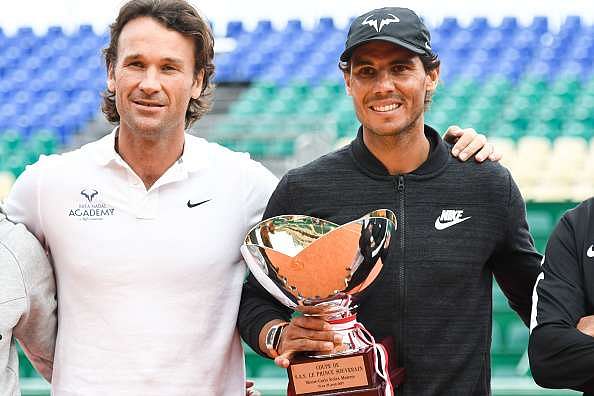 After years of coaching under his uncle Toni Nadal, with whom Rafa has worked since he was a toddler, the former World No. 1 last year finally heeded calls to mix up his changing squad, and announced he would join forces with former No.1 Carlos Moya.
Carlos Moyà, like Nadal, was a clay court specialist, but more than that, he was someone who was a gritty mental player – again, much like his new protege. Moya always did his homework and never shied from a game, and all his games he had one singular trademark- never admitting defeat and never slacking.
These are traits Nadal always had, but somehow, and perhaps under the pressure of the game over the years, he may have lost track of. But after joining forces with Moya, Nadal has had them in droves – and all traits which Nadal shares and believes in whole-heartedly.
Moyà is also an astute strategist as well as a phenomenal human being, values that Nadal has echoed throughout his career so far. For Nadalfinding someone so humble and someone in sync with his own cultural upbringing – a factor that he admits also kept him close to his Uncle Toni, is a bonus – and one that has within a few months already paid its biggest dividends.
It can only go up from here.
Return of Confidence
The Rafael Nadal of 2016 was tired, but not just physically. It would be an understatement to say Rafael Nadal was burnt out, but that is exactly what he was. "I lost my love for the game," he said to a reporter once, and indeed, his game did reflect it. Early, uncharacteristic losses were not the only thing that indicated this, but often Nadal had simply checked out of a match mentally.
Repeated losses also saw his confidence take a big hit, and Nadal routinely went down to players ranked far lower than himself – a fact that took away Nadal's confidence and almost 'gave' it to his competitors. Any match longer than 4 sets saw Nadal's interest flag significantly, and perhaps became a sure-shot indicator that the Spaniard would lose.
The biggest – and most effective remedy for his disillusionment with the game was perhaps his extended break. That break likely grounded Nadal and brought him back in touch with what he really loved about the game.
Six months off has appeared to rejuvenate Nadal and brought back the unbreakable confidence that made him invincible in his heyday. Now, barring one single – and out-of-the-ordinary loss, Nadal has exhibited a singular confidence that makes him the top contender for a tenth French Open title!